A dream without a goal is just a dream. And a goal without a written plan will remain an unattainable wish.
If you want to achieve your goals, you must turn your goals into actionable plans where you can follow and work on.
The problem with most people is that they don't write down their goals. Even if they did, that's all they do, they only write down their goals, without a plan.
Why having an actionable plan is important?
It is easy to understand: wars are won in the general's tent.
It is the planning that creates victory.
Regardless of whether your plan works or not, it is the process of the planning that counts.
Yes, things may not happen according to your plan, but having a plan always beats having no plans.
When you have an actionable plan for your goals, you know what you need to do.
You become proactive. You make things happen rather than waiting for things to happen.
But when you don't have a plan and you have no specific things to do, life becomes boring and you become reactive instead of proactive.
You wait for things to come to you rather than go out and get them.
This is why you must create actionable plans for your goals.
Regardless of whether your plan is a good plan or a so-so one, having a plan is what will move things around.
Having a plan gives specific instructions to your mind about what you need to do.
Without an actionable plan, your mind will wander around and do things according to your feelings, and not your goals.
Do you get it? This is why you must have a plan for your goals.
So, how do you turn your goals into an actionable plan? Here are a few tips to help…
1. Start with your goals and then create milestones
First, you start with your bigger goals and then you break them down into smaller milestones or targets within a shorter time frame.
For example, if your goal is to earn a full-time living from your blog within a year, you can then break this goal into a few milestones such as the number of articles you must publish or the number of guest articles you must hit within 3 or 6 months.
The point is to break down your goals into shorter and smaller milestones.
At this point, you want to bring your goals to your current situation.
Goals that are set too far apart from your current reality usually have a less emotional impact.
This is why you must reverse-engineer your long-term goals and bring them closer to your current situation.
You don't want to just focus on your long-term goals because many things can happen in between.
There will be distractions and there will be times when you don't feel like taking action at all. When you lose interest in your goals, you will give up.
You don't want that to happen, and so you must bring your goals closer to your current reality.
Make them tangible by creating shorter and more realistic milestones.
Read: Short-Term Goal VS Long-Term Goal: Which is Better?
2. Turn your milestones into daily actionable steps
Once you have identified the milestones you need to achieve in order to hit your goals, the following step you need to take is to put up an actionable plan.
As the name suggests, an actionable plan should be something that you can work on. Something you can take action upon.
Hence, get read with pens and papers, and write down all the possible actionable steps.
Now, you don't have to be specific at this point. You just want to put down everything onto paper.
Here are a few suggestions you can follow to formulate your daily actionable plan:
Brainstorm and write down all possible steps
Yes, just brainstorm and write down all possible actionable steps. You want to list down as many steps as possible.
Once you have written down all possible steps, only then you choose the ones that give you the most impact and work on them.
Actionable
Next, include the actionable factor to your steps. For instance, the step, "to grow traffic to your blog", isn't actionable.
You cannot work on it. An actionable step must include some form of action where you can execute. For instance, "to write and submit 2 guest articles each week". This is a better step where you can work on.
Your work then is to "write" the guest article and then "submit" it to other blogs. And when you take this step, you are indirectly creating results and getting yourself to your goals of growing your blog's traffic.
Do you understand now? Your plan needs to be actionable.
Measurable
Try to include numbers to your action steps to make them measurable. Don't just say that you want to write guest articles and publish them on other people's blogs, include a numeric factor.
Write down exactly how many guest articles are you going to write. If your plan is to exercise, don't just write down when you want to exercise, including how much time you're going to do it – from what time to what time, by when and where.
Read: How to Measure Your Progress to Effectively Achieve Your Goals
Deadline
Sometimes, you can also include deadlines for your steps too. For example, "I will write a 1,000 words guest article by 3 PM this Wednesday", or "I will write and finish my eBook by 25th May before 3 PM".
When you include a deadline for your steps and goals, you are making what you want more specific and you are telling your mind by when you want the results to happen.
3. Start with smaller and easier steps
I know you're motivated and you're excited to achieve your goals, but the thing is that you shouldn't overestimate your own ability.
Many people fail to achieve their goals because they overestimate their capabilities and expected unrealistic results in a very short time.
For instance, many people desire financial success. They don't want to worry about paying bills and living a constrained life because of financial instability.
Hence, most people have the idea or the target to become a millionaire.
However, when it comes to this goal of becoming a millionaire or making a million dollars, most of them didn't consider their abilities.
They want the million dollars fast, usually the want to achieve this goal within a year.
Now I'm not saying that this is not possible, but you must consider your knowledge and skills.
If you are starting from scratch, you have no financial education, and you have no business ideas, plus you don't how to manage your wealth, then making a million dollars in a year will be highly impossible for you.
This is what I mean by overestimating your capabilities. As what Bill Gates said: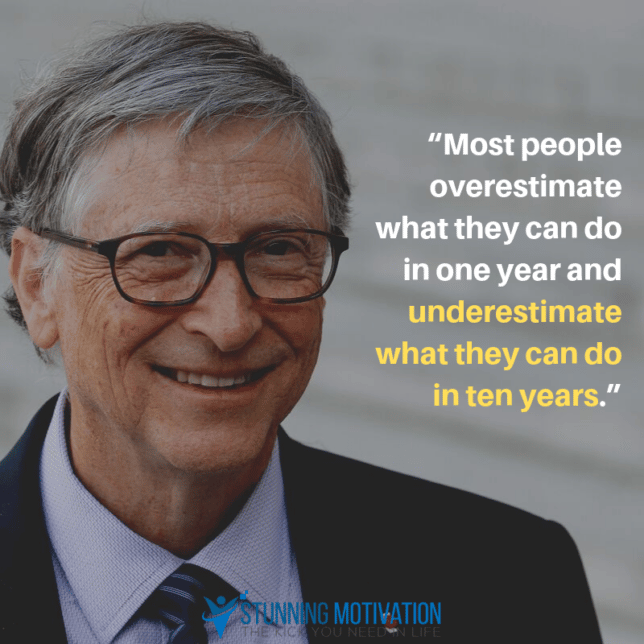 "Most people overestimate what they can do in a year and underestimate what they can in ten years."

Bill Gates
Therefore, start small.
Learn to upgrade your skills and improve your knowledge.
Like playing games, you level up your character so that you can fight stronger enemies and become better.
Don't worry about starting small. It is important to build up your confidence and momentum before you grow big.
Small is the key to achieving big things.
4. Track your progress
Another important key when it comes to creating actionable steps for your goals is to track your progress.
A lot of people don't track their progress, as a result, they don't know if they are moving forward or away from their goals.
Read: How to Track Your Goals: The 5 Fabulous Ways You Should Consider
When you are not seeing the results, you will lose interest in your goals.
You don't want this to happen. One of the main reasons people quit on their goals is that they fail to notice the progress and doubt themselves if what they do is working.
Thus, measure your progress. Know where you are and so you can celebrate your achievement.
No matter how big or small, you must celebrate your progress.
Consciously and actively feel good for all the work you have put in. The more you celebrate and feel good for your work, the harder you will work.
So, you want to stay motivated and see your goals to the finish? Then learn to celebrate and reward yourself for your progress.
Every time you feel good for your effort, you are reinforcing your mind to work harder.
This is how successful people maintain their motivation and build momentum for the amazing results they create in life.
5. Schedule a daily or weekly review
There is no way you can achieve your goals without reviewing your results.
Your action plan must include a meeting with yourself to review your results. You must answer at least these 3 basic questions:
What you did right that got you closer to your goals?
What you did wrong that took you away from your goals?
What have you learned and how can you improve?
These are the 3 questions that will help you improve and make your life more effective.
Schedule a meeting with yourself and ask yourself these 3 questions weekly, if not daily.
The only way you can improve if by knowing what went wrong and what went right, and then do more of the right thing and do less of the wrong thing.
This is why failure is not the opposite of success, it is part of success.
So, don't be afraid of making mistakes or fail in your attempt. Your mistakes and failures give you the experience to improve and do better in the next trial.
Follow the systematic method to set and achieve what you want in life.
My friend, do you know that success is science and not so much about luck? The good news is that it is a skill everyone can learn.
Once you have how to set better goals that drive you into taking massive actions, you will become unstoppable.
This is exactly what I shared on my Goal Setting Formula masterclass.
In the course, you will learn how to set empowering goals with the right and systematic method.
Not only that, but I also share with you what you need to do right after you have your goals. And this is also where most people get it wrong.
So, if you need help to take your life to a higher level, to achieve your goals, and to accomplish greater success, follow my method from Goal Setting Formula.
This article may contain affiliate links. Meaning, at no additional cost to you, I will earn a commission if you click through and make a purchase. As always, I only recommend products and services I trust.