Hey there, welcome to Stunning Motivation, a blog created for people who need motivation and who want to achieve greater success in life.
I am Shawn Lim, a blogger who is obssessed with personal development and I'm here to help you discover your purpose, reignite your motivation, and help you achieve your goals for amazing success in life.
Are you:
Feeling lost and have no idea what you want out of your life?
Always find yourself lack of motivation to pursue your goals and dreams?
Fail to produce real results and are not moving forward in life?
If your answer is a yes to any of the above questions, then this blog is created for you.
I started my journey in the personal development industry in 2007, over a decade ago. And like most people, when I first began, I'm living a directionless life. I don't know what is the purpose of my life and I have no idea what my future is going to be like.
So I turned to books. I started reading with the intention to discover my purpose, my goals, and my dreams. And I attended seminars and workshops to improve my knowledge and skills.
And discovered I should share my findings and to help people who face similar problems like me.
Hence, if you're someone who want to achieve greater success in life, I welcome you with open arms.
You're about to discover great insights and guides that will change your mind and your life.
In this blog, I talk about success and how you can accomplish extraordinary achievements, I share about setting goals and achieving them, I even have a masterclass called Goal Setting Formula (which you should participate), and I also discuss motivation and personal productivity.
If this if your first time visiting this blog or getting to know me, I have a gift for you.
Download my free guidebook, Active Goal Setting, where you get to learn how to "activate" your goals and bring the invisible into the visible, turning your dreams into reality.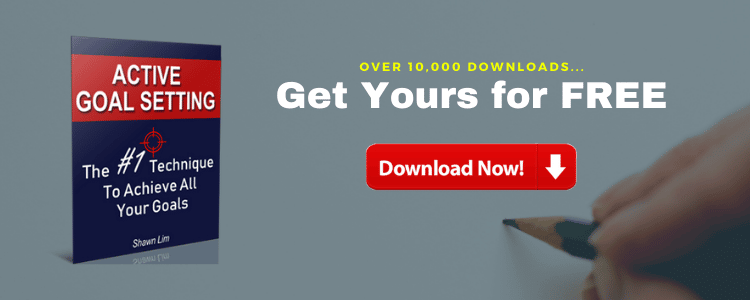 Cheers,
Shawn Lim