New Year is just around the corner, have you planned how are you going to live your 2020? If you're yet to do any planning, this will be the right article you should read. I'm going to share with you the 13 free New Year resolutions templates I created myself. You can use them any way you like, at no cost.
But before we talk about the resolution's templates, let's talk about why you do need them…
Why is Goal Setting Template Important
One of the most common reasons people fail to achieve their goals and stick to their resolutions is that they get lost as they progress through their days.
Let's face it, we are busy. We have work to do and family to take care of. We have to entertain our colleagues and also social with our friends. Not to mention how much time we're going to spend on social media, movies, and dramas.
The thing is that we will gradually lose interest and motivation on our goals and resolutions if we let it.
Therefore, we can't leave things up to chances. I bet you don't want to see your New Year's resolutions being ignored and eventually got thrown into the drain, right?
This is why we need to constantly remind ourselves of our goals and resolutions. We want to constantly connect with the things that we want to achieve in order to take action upon them.
And that's why we need to use a goal-setting template. Without the template, we tend to easily forget about our resolutions. And with days gone by, we will soon lose our motivation and eventually, give up on them.
How to Make Your New Year's Resolutions
In the last few days, I have published an in-depth guide about how you can make your New Year's resolutions.
Some people have no idea how to do it. Should they write it down? Should they use an App? How should they write their resolutions? You can find out the answer in this article below:
How to Make New Year Resolutions? Follow These 7 Easy Steps
Making, or creating your New Year's resolutions is just like setting goals. There is no right or wrong. You just need to do it, plan it, and then act on the plan.
What Are Some of the Popular New Year's Resolution Ideas?
Some people will want to know what the most popular resolutions are. I bet you want to know that as well, right? Check out this list:
Top 20 New Year Resolution Ideas You Should Consider
Now, you don't have to follow exactly and make other people's resolutions yours. You just need to get the idea and then create your own goals.
How to Achieve Your Resolutions
The process of achieving your goals is a science, not an art. Hence, when you have the right combination, you will succeed.
Just like if you want to catch the sunrise, you need to face the right direction. If you try to run West, no matter how fast you run, you will never get to see the sunrise.
Hence, the progress of achieving your goals and resolutions is vital. And I have also covered the info in this article below, make sure you read it:
10 Great Advice How to Achieve New Year's Resolutions
Once you have mastered all these skills, it is time to use these templates below…
13 Free New Year Resolution Templates
I have to say this, I created these templates myself. I hope that they are going to be useful to you. I have also provided the PDF file so that you can download them and use them any way you want.
Now, you don't have to follow these templates exactly. You can make some changes if you want to.
Remember, templates are there to help you become more effective and efficient in achieving your resolutions. Thus, you can customize them and make them suitable for your preference.
I use Canva.com to create all these templates. They have ready-made templates where you can edit and make changes too. I must give a big thanks to Canva for being such a convenient and powerful tool.
You can learn to use Canva and create your own template as well. It is easy to use.
Here are the 13 free templates I created especially for you. Hope you will find them interesting and useful…
Template #1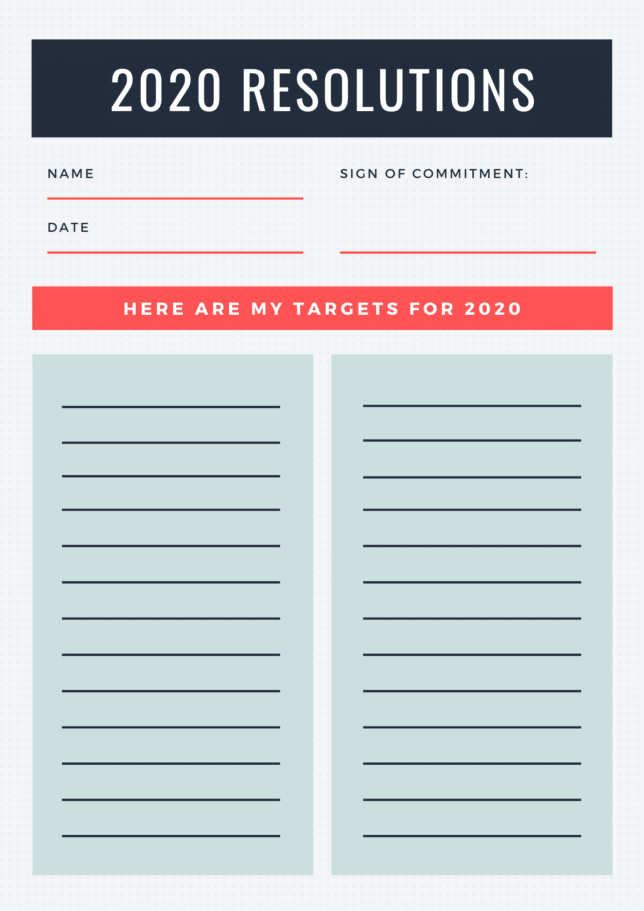 Template #2
Template #3
Template #4
Template #5
Template #6
Template #7
Template #8
Template #9
Template #10
Template #11
Template #12
Template #13
Follow My Goal Setting Formula
It is fun setting goals and creating New Year's resolutions. But to achieve them is harder than you think. And you can't just think about your goals and hope that they will automatically realize in your life. You need to work for them.
So, I would like to introduce you to Goal Setting Formula. It is the strategy I used to set and achieve my goals.
It is a masterclass where you will learn everything from developing the right mindset, techniques to setting your goals, strategies to measure and to make your goals come true.
If you are serious about making 2020 your best year ever, I strongly suggest you invest in the course. Go here to learn more about Goal Setting Formula.
This article may contain affiliate links. Meaning, at no additional cost to you, I will earn a commission if you click through and make a purchase. As always, I only recommend products and services I trust.