Having a clear and exciting dream for the future is important, but what is equally important is the process of planning where you turn your far-fetched dreams into actionable goals or steps. And this is where the action plan templates come into play.
Most people have dreams, but the majority of them don't have an action plan. And in this article, we're going to talk about how action plan templates can help you in achieving what you want in life.
More importantly, I'm going to show you some samples of the action planners that you can use immediately.
We all know that having a dream is just the first step to achieving it, but most people fail to realize their dreams because they are not putting in the necessary action.
Some time ago, I spoke to Adam C from Ignite SEO, a company offering SEO consulting services, he said, "If you fail to plan, then you plan to fail. Planning is an essential part of any project and it guides you on the right path. Any project that starts without a plan, is bound to fail no matter how good it seems."
There are many reasons why people are not taking action, some due to procrastination, some because they have no idea how to do it, some feel overwhelmed with their goals, and some become inaction because they are bogged down by the process.
Whatever the reasons, an action planner helps a lot in making the process of achieving your goals easier, faster, and smoother.
In short, an action plan helps you understand what is the next step you need to take so that you can become proactive and get the work done.
If you are running a business, an action plan is even more important. It works as a strategic business plan for your business that describes in detail why your business exists, what it does, who it serves, and what it is trying to accomplish.
As a blogger, there are many tasks I need to do each day. For instance, I need to write content, network with other bloggers, update my Facebook page, write articles for guest blogging, and much, much more.
I feel extremely overwhelmed due to all the workload and I have no idea what to do or where to start.
When I think about it, the process of building a successful blog actually paralyzed me. I feel like there are so many things to do and I simply cannot cope with them.
Luckily, I decided to use an action plan template to streamline my work process. Guess what, after I used the action planner, things become clear to me.
When I know what I need to do, I can focus on the work at hand. Plus, I don't have to worry about other tasks because I know I have scheduled them and I will take care of them when the time comes.
The best part is I feel "lifted" and extremely fulfilled the moment I get all the tasks done.
Thus, if you're feeling overwhelmed with your tasks, inaction, always procrastinate, or find it difficult to focus on your goals, use an action planner.
Why You Need an Action Planner?
Before I show you the examples of action plan templates, you have to know why you want to use them. Here are some benefits of using an action planner.
1. It gives you a crystal clear direction of what to do
This is no doubt this is one of the most important functions of an action planner. Whenever you feel lost and you have no idea what to do to make progress, your action planner gives you the idea.
As I have mentioned above, I felt lost and had no idea where to start when it comes to building this blog, but by using the action planner, I can schedule my tasks and I understand what I needed to do.
It gives me a crystal clear direction and allows me to follow the plan step-by-step. Clarity is power.
2. Your action planner provides undivided attention and focus
Another great benefit you get by using an action planner is that it allows you to focus and concentrate on your tasks without distraction.
For example, I know that every morning, one of my main tasks is to write 1,500 words of content for this blog, and because my action planner is just right in front of me, I can see it clearly and in an instant, I know what I needed to do.
It gives me focus and put me in front of my computer to do the work.
Some people are easily distracted: Checking their phones, replying to emails, cleaning the workspace, and organizing. You know very well that when it is time for you to work, you should work and not use your time to organize your desk or do the filing.
Read: 10 Amazing Ways How to Improve Your Focus
3. You become more committed
Why do you bother writing down your goals if they are not important to you, right? Having an action plan template is the same.
It makes you more committed to your work. People who are not committed to working on their goals will never bother writing down their goals, let alone creating an action plan for their goals.
When you take the time to create your action planner, it simply shows that you are committed to working on the tasks so that you can achieve your goals.
And when you have an action plan, you become more committed to acting on it.
4. The action plan template shows your progress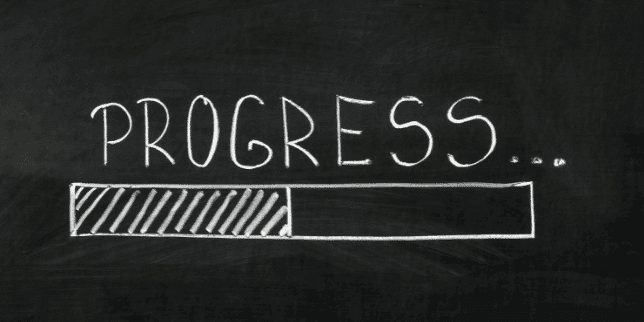 How can you know if you are moving forward or are moving backward? Simple, just check your progress on your action planner.
It works just like the Seinfeld Calendar method. You can tell if you are making progress at a glance.
If you are not making any progress, you know that you are behind your goals and you should do something about it right now.
And if you are making progress, congratulations, you know that the achievement of your goals will be more certain.
5. You feel more motivated and driven
Having an action plan template makes you feel that your dreams are possible. Dreams are usually vague and they are something that you desire in the future. When you create an action plan and write down all the step-by-step actions to reach them, it makes you feel that your dreams are near and possible.
In other words, when you streamline your dreams, put them into achievable goals, and then create an action plan to reach your goals, you will feel more motivated because things become more possible.
In short, you are making your dreams and your goals tangible and achievable.
All you need to do to achieve your goals then is to follow your plan and take action.
Read: 7 Benefits of Goal Setting and Why It Is Important to Set Goals
6. You can prioritize your work easily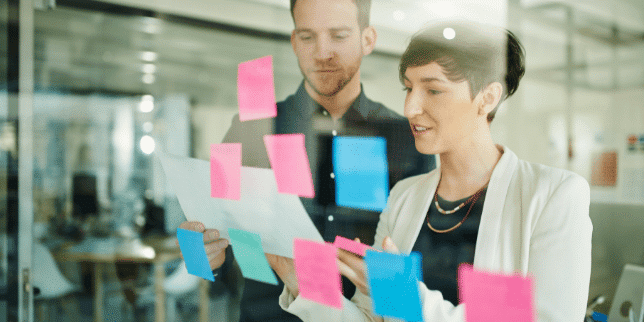 In the process of creating your action plan template, you write down all your tactics and what you need to do to achieve your goals.
This process is important because when you do so, it tells you what are the important and high-impact works that need to get done to achieve your goals faster.
A lot of people are not making much progress because they focus on doing the less important work rather than the high-impact ones.
For instance, when it comes to building a successful blog, what you need is content and marketing, all the rest such as blog design and a beautiful logo can wait.
You need to get the high-impact work done first before you put your time on other less important work.
This is what you can do when you have an action planner.
7. You feel less stress and more satisfaction
Finally, when you put down everything into your action planner, you are able to view the progress from a bigger perspective.
Like what I mentioned, things will be cleared, you know what to do, and all you need to do then is to take action. Therefore, you feel less stressed.
More importantly, when you act on your plan, it gives you a lot of satisfaction and you will feel extremely fulfilled.
In conclusion, having an action plan template is crucial. It is a tool that helps you become more productive and shows you what needs to get done.
The 10 Effective Action Plan Templates You Can Use Right Now
Now comes the most exciting moment. Here are the 10 effective action plan templates that you can model or even download for your own use.
I found that this action plan is good to use because it is simple, straight-to-the-point, and you can include a couple of goals into the template.
There are more templates shared on Smartsheet.com, you can check them out. They have team action work plans, business action plans, and even action plan templates for school assignments.
Another great template you get is from LiveYourWay.com. This template caters to the project/task rather than the daily-log type. If your tasks are based on a project and you don't have to repeat the same tasks every day, then this template may be for you.
This template is awesome because it gives you a clear view of what you need to get done each day.
Not just that, John, the blogger at Fire Up Today also shares with his readers how to use the action template. I strongly suggest you check out the article.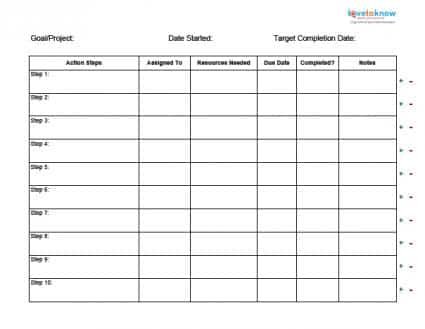 This is another effective action planner you should consider. This template focuses on the overall steps that you can act on rather than a vague plan that leaves you hanging.
5. Template from Shi Wei, who uploaded to SlideShare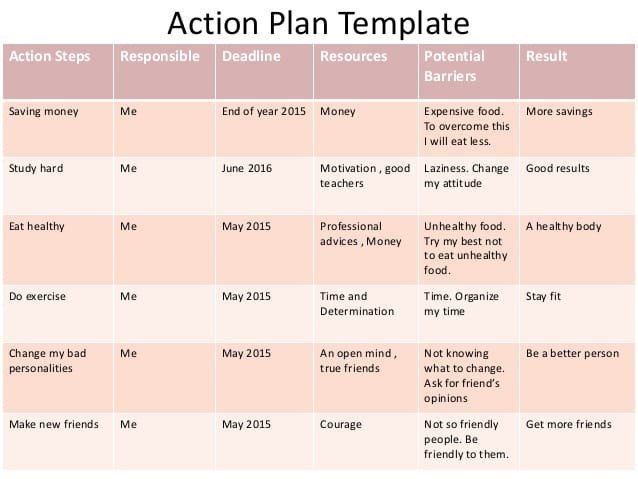 In my opinion, this template is good because it is very easy to use. It is just that the examples shared by Shi Wei, the template uploader, are vague.
The action steps should be more specific, with measurable factors and actions that you can actually work on. No worries, because you can model after this template and customize your own.
This template is specifically created for writers and bloggers, but I believe you can also use it for other purposes and goals.
I love this template because the author Jennifer includes an explanation of how you can use it. Not just that, you can download the PDF version from the webpage directly.
At first glance, the template is clean and easy to use. Check it out.
This template was created by Alyssa Gregory, and she nails it by saying, "I'm going to get right to the point: Setting business goals is a waste of time if you're not creating an action plan to support your goals."
This action planner includes the sections for necessary resources, the potential challenges, and also the results you get. It is a great template you can use to achieve your goals.
SmartSheet.com provides many types of templates. You can choose the checklist style or calendar style.
There are plenty of selections from the daily log template, and daily planner, to the daily task list. I strongly recommend you check out their website for more info.
This is an interesting action template anyone can easily use to streamline action steps to achieve their goals.
The action planner is based on the 1-3-5 Rule where you start with 1 main goal, and then you brainstorm for 3 strategies to achieve the goal, and finally, you come up with 5 action steps to reach your 3 strategies.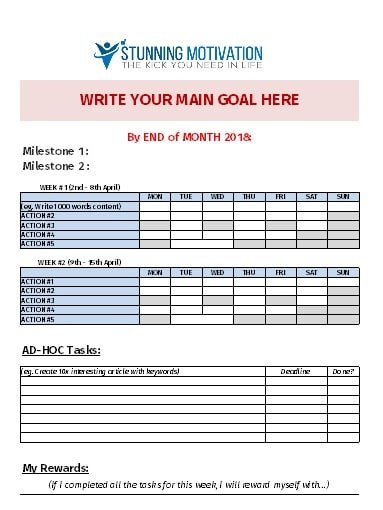 Now, this is the weekly scoreboard or the action plan template that I personally use.
You can download the Excel file HERE and then just make your own edition.
And because I created this one and I'm using it, so I'm going to explain it a little more in detail. 🙂
MAIN GOAL: Like all other templates, you start with your most important goal. Write it down.
MILESTONES: In my opinion, milestones are short-term measures of your goals. It can be anywhere from a week to 3 months. In my case, usually, I will just put the 1-month targets.
ACTION PLAN: In the action planner, I will put in all the daily tasks that I need to get done. The darken box represents "invalid" or "no action required". Every time when I completed a task, I will put a "tick" on the relevant box according to the day.
Sometimes, I will include the action plan for the second week so that I can save effort and don't have to print another copy of the template. It saves my work. This is only possible if the weekly tasks in your action plan are repeated. And this is also why I included the ad-hoc tasks section.
AD-HOC TASKS: Whatever tasks are not repeated on a daily basis, I will include them in the ad-hoc tasks section as a weekly to-do item.
REWARDS: I believe that a reward can be a great motivator to drive you into taking action. And usually, I put the weekly reward here rather than a monthly reward or a reward only when I achieve my goal.
When your reward takes too long to materialize, you lose motivation. Hence, a weekly reward will be great. Make it as exciting as possible and be sure that it is something that you look forward to.
Customize Your Own Action Plan Template
Remember, there is no one-size-fits-all template. If you are looking for the best or the perfect template, I can tell you that it did not exist.
The most suitable template will be the one that you created for yourself.
Of course, you can use the 10 templates from the above, but the best one that suits you the most will be the one that you customize to fit your requirement.
Now that you have an idea of what the action plan templates should look like, you can then model after them.
Take the template that I used as an example, I have included the Excel file that you can download and edit to fit your criteria.
In fact, most of the templates I shared above are downloadable. It means that you can edit them in anyway you want.
But if you are trying to create your own action plan, here are a few keys to remember:
1. The action steps must be clear, specific, measurable, and with a deadline
We're talking about action templates where you need to take action accordingly, not the goal-setting templates. Therefore, the action steps must be clear, specific, and actionable.
The action steps are something that you want to work on, something actionable, and something that you can actually do. So make it as clear as possible.
Don't write down actions such as "to go jogging". Instead, be super-specific, write down, "to go jogging for an hour, from 7 AM to 8 AM, on Wednesday."
Make it measurable. And don't forget to include a deadline. A deadline tells you exactly by when you should complete the action step. Without a deadline or timeframe, you can take forever to complete it.
2. Include your most important goal on your action template
The reason you want to have an action planner is that you want to achieve your goal. If your most important goal is not written there, what's the point of creating the action planner, right?
Furthermore, having an action planner reminds you of your goals, which can serve as a trigger to motivate you into taking action.
Try not to include too many goals in your action planner. Read the book, The 4 Disciplines of Execution and you will understand the principle of having only one or two wildly important goals.
The more goals you try to achieve, the less likely you're going to reach them because you spread yourself too thin.
3. Make your action plan template simple and easy to update
If your template is difficult to execute or update, you are only creating a resistance NOT to do it.
You want to make it as simple and as easy to update as possible. This is why I prefer to use a diary to record my daily activities, and at the same time, I use the action plan template to keep myself updated as well for the daily plus weekly tasks.
I make it into a weekly table because I don't want to create the hassle to print the template every single day. I only do it once a week, which is absolutely fine.
Hence, make your template easy to execute. Make sure you can understand and know your progress and know what to do by taking a quick glance at it.
Conclusion
It is fun when you create your own template. However, make sure you follow through and use it. Don't just create it and then keep it aside.
And what's more important for you to understand is that the first week of implementing your action plan template may be challenging.
You're not used to it. You may feel left behind and there will be tasks that you cannot complete because you overestimate your own ability.
Even in the second week, you may still feel a little challenged to follow the plan.
But, trust me, by the end of the third week or after a month of using the template, you will feel everything is right and you're moving forward faster than ever. You will feel productive and get a lot of things done.
So, my friend, endure and follow your plan. Once you have got used to it, you will become unstoppable.
This article may contain affiliate links. Meaning, at no additional cost to you, I will earn a commission if you click through and make a purchase. As always, I only recommend products and services I trust.