We all know that learning is crucial to living an extraordinary life. There is no way you can achieve greatness without learning, and one of the easiest ways to learn is through reading.
I read a lot of books. I strive to improve my pace to read two books a month, but on average, I read about a book a month.
How books and reading have changed my life is way beyond words. Without reading, I will never accumulate the knowledge and information that I didn't know. And it is through reading that I found the possibilities and there is so much more potential in every one of us.
To me, reading has 3 main objectives:
1. Reading motivates and inspires me.
Whenever I read books like Live Your Dreams by Les Brown and Delivering Happiness by Tony Hsieh, I feel motivated. I feel like it is alright when things are not going according to my plan, I just need to hustle and keep moving on because success is just on the side.
When I read stories about people who have gone through tough times and hardships that they managed to create the success they want at the end of the day, I feel totally inspired. I believe the same goes for you.
2. Reading widens my perspective.
I was born in a small town called Melaka in Malaysia. When I was at school, my dream car was a Honda Civic, which costs about $110k. And that was a lot of money to me. After I graduated and worked in Kuala Lumpur, the capital city of Malaysia, I was influenced by the people around me. I started to see bigger and bolder dreams. People around me are driving more expensive cars like Mercedes, Audi, and BMW.
Simply put, my surroundings changed my perspective. And guess what, reading did the same thing to me too. The more I read, the more I understand and the more I learn. And the more I learn, the more possibilities are opened to me. So reading widens my perspective and shows me what is possible in life.
3. Reading allows me to write better.
You should understand that I'm actively running this blog. And each week, I publish new content to it. The thing is that sometimes I will run out of ideas and find it difficult come up with a new angle of writing. And reading has helped me a lot in overcoming this problem.
If you are a blogger or a writer, you should know that the more you read, the more you can write. Just like what Stephen King said:
"If you want to be a writer, you must do two things above all others: Read a lot and write a lot."
The more you involve yourself in related activities, the better your skills can be. The more you read, the better the ideas can flow to you.
In sales, the more prospecting you do, the better you can sell. The more you understand or use your product, the better your skill. The same principle applies to every area of life.
The Best Books I Recommend You Read
Please understand that these books are my personal recommendations and I don't rank them in any manner. So I hope you find this list interesting and hopefully, you will read these books and love them, like I do.
By the way, I will also add in new books that I find interesting or inspirational. So do check out the date of this post because I may come back to this list in the near future.
Grit by Angela Duckworth
This is one of the best books that I'll recommend everyone to read. In the book, Angela Duckworth explains carefully why and what creates outstanding success, based on science, studies, and interviews with high achievers from various fields. The most important takeaway from the book is that success is not by luck or reserves for those who are talented, but for those who are passionate and who persevere until the very end.
This is an amazing book written by Vishen Lakhiani, who happens to come from my home country as well, a fellow Malaysian. Vishen is the founder of Mindvalley, one of the largest and fastest growing personal development companies in the world, and he shared his ideas and thoughts about achieving extraordinary results by decoding the mind of highly successful people.
Ah, habit, do I need to explain even further about this book? If you want to learn about how habits are formed, how they can affect your life, and more importantly, how you can change them. Charles Duhigg is a Pulitzer Prize winner and this book has also been listed on the New York Times Bestseller list. The stories and illustrations used by Duhigg are fascinating.
This is another best-selling book that you should read. Basically, Tim Ferriss shares how he went from working full-time to quitting his job, and then builds an online business, outsource almost everything, and become the New Rich who works for only 4 hours a week. There are many great insights to learn and Tim shows you how you too, can join the New Rich and work from anywhere around the world, without having to worry about paying your bills.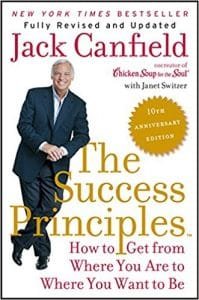 When it comes to the principles of success, the best teacher is none other than the best-selling author of the Chicken Soup series books, Jack Canfield. I love this book because Jack writes it in an easy-to-read and understand manner. There is no complicated research, but simple principles that anyone can implement to live a successful life. This is also a book that I will reread over and over again.
Everyone knows that one of the keys to achieving remarkable success is through thinking big, and this is what this book is all about. And not just that, Charles Schwartz also shared the idea of how you must strengthen and develop the most important trait of success within yourself, which is to believe in yourself. I like this book a lot and every time when I read it, I feel totally inspired.
This is a book written by one of the best motivational gurus in the world. Les Brown's story is truly inspirational and the way he presents it in the book makes it very easy for readers to understand and learn the essence within. I have always loved to hear the talks from Les Brown, I even have his motivational audios that I listen to while driving. If you think you are having a bad day or are facing some tough times, read this book, you will feel so much better afterward.
The 4DX is a book that I strongly recommend everyone who wants to achieve their goals to learn. The authors share with you their findings and how they have helped many companies boost their revenues and hit their goals. There are four disciplines you need to follow when it comes to achieving your goals, and one of them is to focus on the lead measure and not the lag measure. The other three disciplines? Well, you have to read the book to find out.
I'm sure you have heard about this book, and highly likely, you have read it as well. If you have read this book, great, but if you haven't, get it right now and read it. Although this is an old book from Tony, it is considered one of the most life-changing books by many, including me. Yes, if you ask me about books that change life, Awaken the Giant Within will always be on the list.
Ever heard about the 10,000 hours rule? The idea of hitting 10,000 hours in order to achieve mastery comes from this book, Outliers. According to Malcolm Gladwell, genius is often overrated, and extraordinary success is about the combination of a number of key factors such as opportunity, hard work, and culture. Besides that, when and where you were born can also influence the opportunities that you have. This book is a great read and you will understand how success is the combination of being in the right place, at the right time and are the right person.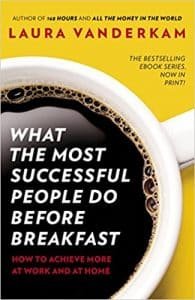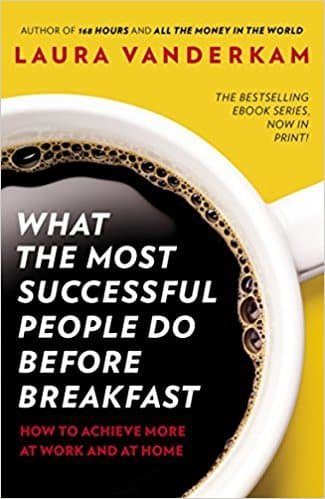 Do you want to know what the most successful people do before breakfast? Well, Laura Vanderkam shares it through her studies and interviews. This is relatively quick read, but I like this book because it reminds me of how and what the highly successful choose to do in the morning and over the weekend. Vanderkam is an expert in time management and productivity, this book will surely help you become more effective and achieve better results in life.
The One Thing by Gary Keller and Jay Papasan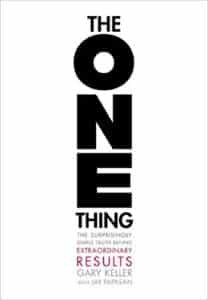 Again, this is another must-read book on personal productivity. I like the way how Gary Keller presents the idea of doing the one thing in the book. Many people think that multitasking is a good skill, but it is not. Multitasking only slows you down. And most people believe that doing big things are difficult, which Keller shows you why this is not true at all. And more importantly, you will learn your one thing and all you need to do is to focus on doing this one thing.
Everyone who wants to be a millionaire needs to read this book. MJ DeMarco tells you why buying courses and listening to the so-called gurus may not always be a great way. I must admit that I'm a little skeptical before I get this book, but after reading it, the author amazed me with the information in the book. Read this book if you want to start your own business and venture into the journey to becoming a millionaire. One of the most important ideas within the book is that anyone can get rich at a young age, and enjoy life. It is not about retiring rich, but to get rich and retire young so that you can have the money and the time to enjoy your life.
This is a very popular book in the personal finance industry. And you may have even attended the seminars conducted by Harv Eker. Put the seminar aside, this is about the book. And I found that this is one of the best books about building the right mentality to get rich. Eker will show you the 17 ways how rich people think and how you can do the same to achieve your financial success too. This book is a quick read, but I found the 17 wealth files shared by Eker to be very inspirational. And I have read this book countless times.
Want to build a successful company? This book examines all the factors of what it takes for an ordinary company to become great and outperform their competitors. Jim Collins and his team analyzed 28 companies over 30 years and he has compiled all the golden nuggets in this book. There are a lot of great insights such as the Hedgehog Concept and Level 5 Leadership; this book will definitely amaze you. What is more powerful is that the ideas in this book are based on studies and interviews of real-life examples of successful companies and people.
In a nutshell, The E-Myth Revisited is a business book explains why more than 80% of the small businesses fail and how you can prevent that from happening to your business. Michael Gerber shows you why you need a system, just like how McDonald's did it. I like the part where he explains that there are 3 characters exist within us, the technician, the entrepreneur, and the manager. Gerber also shares a lot of great insights and ideas especially the way he explains about working ON your business and not IN the business. Hence, read this book if you want to build a successful business.
One of the most legendary leaders in the technology and business industry is none other than Steve Jobs. He has inspired many to start their own company and build a revolutionary business. His story of how he started at school, founded Apple, got fired by his own company, and then came back again when Apple was about to go bankrupt and he completely turned Apple around to become the company of the decade, is truly fascinating. It is a thick book, but I found that the moment I started reading it, I can't stop and want to read more. There are many things and lessons you can learn from Jobs, and this is why he is one of the most famous idols that people model after.
If you don't like Steve Jobs, read this book from another highly successful and well-respected entrepreneur, Richard Branson. Losing My Virginity is the autobiography of Branson. You will read about how Branson started as a kid, built businesses, founded Virgin Records, built an airline, and all the fun and crazy things he did on his journey to becoming a billionaire. Oh, you will also learn how he managed to buy an island and build his dream house there.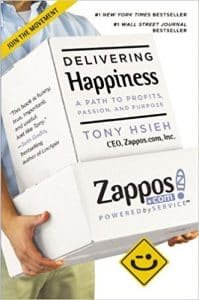 I have to be honest, before I read the book, I don't know anything about Zappos or Tony Hsieh, I bought the book because of great reviews. And guess what, I have never regretted my decision. Tony's story and how his meteoric rise by building Zappos into a successful company is extremely inspirational. Everyone who wants to start their business should read this book. One of the takeaways from the book is that Tony stresses a lot about building the right company culture and focuses on building extraordinary customer service. Zappos was acquired by Amazon in 2009 for $1.2 billion.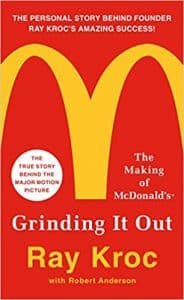 Who has not eaten McDonald's before or heard about it? But do you know how McDonald's started and grew to become the largest fast-food franchise restaurant in the world? Read this book and you will go through how Ray Kroc grew McDonald's revolutionized the entire food industry in the world. Kroc was not the founder of McDonald's, but he bought the rights from the McDonald's brothers and started his empire for world domination.
What Say You?
So, which one have you read? Or to be more precise, which books are you going to read, and by when?
Let me know what you think about these books in the comment section below.
This article may contain affiliate links. Meaning, at no additional cost to you, I will earn a commission if you click through and make a purchase. As always, I only recommend products and services I trust.