Reading is both the most underestimated and overestimated habit that people love to talk about when it comes to achieving success in life.
So does reading helps us to be more successful in life?
You will discover it in this article. First, I admit that I love to read, and I read almost every single day. I spend about 30 minutes each day to read personal development books and business books.
Reading is one of my hobbies, and I truly believe that reading is going to a GREAT help in changing us and reprogramming our minds for success.
Do You Over-Read?
And when it comes to reading, there are 2 main problems. First, let's talk a little about over-reading.
I'm not sure if such a word as over-read exists, but this is what happens when you buy into the wrong perception to think that reading alone can make you successful.
Yes, reading does help in improving your life, but in order to produce results, you need to work for it.
You can't just spend your entire day reading and then feeling good about it, but not doing anything at all.
Reading is passive. You feel good about reading inspirational materials, but if you don't apply what you've learned, you will never get the results you want.
Never use reading and learning or planning as an excuse for not taking action.
When it is time to read, you read. When it is time to take action and work, you do the real work and take massive action.
Learning alone is not going to make you successful. While there is nothing wrong about reading and learning, but what truly gets you the result you want is to take action and work on your dreams and your goals.
Another common scenario is under-read.
This happens to people who don't read often. After they graduated from school, they've never picked up any book since.
These people are the under-readers. They thought that they knew everything and there is no need to improve themselves anymore.
I encourage people to read. In fact, I would suggest you make it your habit to read and learn every day.
You can make it a habit of spending at least 30 minutes or an hour to read. Schedule your day and read at the same time every day.
Eventually, this will become your habit, and you will never want to miss out reading.
So, make it a habit to read. And at the same time, apply what you have learned from what you read.
Want to know the secret to achieve extraordinary success in life? Read, learn, and then apply the knowledge and take massive action.
Here's an important guide you should check out:
10 Tips How to Get the Most Out of Reading a Book
Successful People Who Read
Do you think successful people read a lot? The answer is an absolute YES!
In fact, reading is one of the main contributors toward their success. One of the reasons people are able to produce amazing results is because they read a lot.
Here are some great examples that will convince you to read more…
Once, Warren Buffett, the richest investors of our time was asked about his key to success. He pointed to a pile of books nearby him and said:
"Read 500 pages like this every day. That's how knowledge works. It builds up, like compound interest. All of you can do it, but I guarantee not many of you will do it."

Warren Buffett
Buffett makes sure he read 500 pages a day when he started his journey as a stock investor. Even today, he still spends 80% of his time reading books.
Bill Gates is another billionaire credited his success to reading. Do you know that Bill Gates read about 50 books a year, and he has a library at home? On average, he reads about a book per week.
Did you know how Elon Musk, the guy behind Tesla, discovered his dreams and what he wanted to do in life? He read a ton of books.
It is said that he read 10 hours a day when he was young, and he finished reading all the books in the entire library! Read this article to find out more about how reading changed Elon Musk.
Once, Musk was asked how did learn to build rockets through his company SpaceX, he said, "I read books."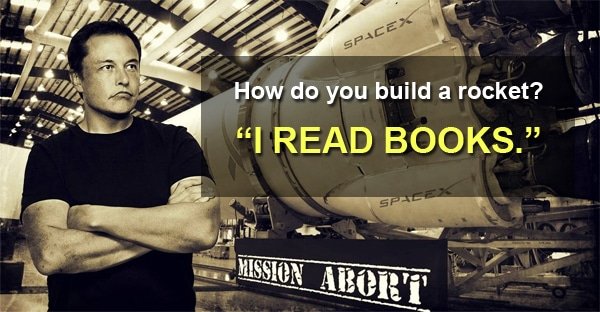 Another billionaire, Oprah Winfrey, picks her favorite books once a month to share and discuss the book with her club member. She is also an avid reader who dedicated a large part of her success in reading and learning.
So are you convinced that reading can contribute to your success now?
Here are some of the top benefits of reading:
1. Reading increases your knowledge
This is the most basic and common benefits people understand about reading. When you ask someone why they want to read, they will tell you that they want to learn and improve their knowledge.
Depending on what you read, reading can obviously improve your knowledge.
If you are in real estate, reading materials on the topic will keep you up to date and prepare you for what you need to learn in the industry.
Imagine if you are in the sales industry. What would happen if you commit to reading a book about selling each week?
Within a year, you will have read at least 50 books. Do you think this is going to improve your sales or presentation skills? Do you think this habit will make you more money and more sales?
The answer is a resounding yes. Thus, if you want to become the best in your field and master your work, you must make it your habit to read and learn.
This is also one of the reasons why successful people are successful. They are consistently upgrading themselves through reading and learning. You should do the same.
Read: 10 Simple Rules to Achieve Extraordinary Personal Success
2. Reading improves your focus and attention
Do you know that when you read, you are training your focus and attention? It is not easy to sit and read for hours or even minutes for some people.
For instance, if you read up to this point, it simply means that you can focus much better than most people, and you have a good attention span.
When you spend time reading, you are training your brain to focus on the words. Reading can be boring sometimes, but if you can pour in your full attention and read through the pages, you will increase your power of concentration.
Training your brain to focus is very important especially in this information loaded days. There are so many distractions in your life: your phone, your computer, your colleagues, Facebook, Instagram, Twitter, interesting YouTube videos, etc.
This is why it is getting more and more difficult for us to stay focus on a subject matter.
Thus, if you want to achieve greater success, you need to learn how to improve your focus, and reading can help.
Read: 10 Amazing Ways How to Improve Your Focus
3. Reading reduces your stress level
When you read, you will immerse yourself into what the author has to say. Studies have shown that reading can reduce your stress and give you peace of mind.
I bet you have had times when you are totally immersed in reading. You're so focused that you don't know what is happening around you and you have lost the sense of time.
When you read a really good book, the information will capture your attention, and you lost yourself in the book. Your brain will create the flow and picture the 'movie' in your head. You will imagine vivid pictures inside your head even though you are reading just plain words.
It is when you become fully present in reading, you will forget your stress and truly enjoy reading.
Reading is to the mind what exercise is to the body.
The more you read, the more you use your brain muscle, and the more you train your mind. And the more you use your mind, the sharper and the more creative you will be.
4. Reading builds your mental power
Do you know what happens when you read? Try to look at a book; it is just made of papers and words. And words are just plain ink on papers.
When the words connect to each other, they become sentences. And sentences, when combined, become paragraphs. Paragraphs will become pages and pages become a book.
What I'm trying to say is that when you read, you are reading plain words. However, your mind will work its magic and use your creativity to imagine. Your mind will put all the words and paragraphs together and play them as 'movie' in your head.
As a result, this boosts your mental power and improves your creativity.
When a problem occurs, your mind will search for all possible solutions in your head. Hence, if you are a person who reads a lot, it will be easier for your mind to search for the right solution to the problem.
This is why reading can improve your mental power and make you more creative. Not only that, reading will be able to boost your memory as well.
You use your mind to imagine what you read. And imagination tends to stay as memory in your mind. This is especially true if your mind associates stronger emotions with the mental pictures you created with your mind.
Let me ask you this question, what are you doing on this date, September 11, 2001? Most people can remember because it was an emotional day when the World Trade Center came down.
What if I ask you what did you do at this date, January 21, 2002? Can you still remember? Chances are, you can't.
You see, you tend to remember more clearly on things that are emotional.
Therefore, when you read, you will improve and remember better because your brain thinks in pictures. And pictures tend to be more emotional than plain words.
This is how reading helps improve your mental power and memory.
5. Reading is the best way to fill your free time
Besides all the great benefits of reading, it is also a great way to fill your free time.
What do you do when you are free? Most people will spend time mindlessly surfing the internet, playing with their phones, checking unrelated emails, checking updates on Facebook, surfing YouTube, etc.
If you can make reading your hobby, it can be one of the best habits you will ever develop to fill your free time.
You can buy just one book, say for $10, and then you can read it for a month or two, which is considered very worthy.
What's more, you can choose to reread the book a few months later. Or you can also choose to reread the book until you fully grasp the concept and ideas within.
So the $10 spent will be a great investment in yourself.
It is said that Warren Buffett read The Intelligent Investor, for as many times as he could until he fully understands the ideas shared in the book. He treated the book like his 'holy bible'.
So what are your favorite books? Do you have one? If you don't, it is time for you to get some and make them your collections.
Read: 10 Best Success Books to Create Real Results in Life
6. Reading inspires and keeps you motivated
Reading can drive and motivate you. When you are down, read stories from successful people and learn how they have gone through tough times. You will feel inspired and motivated again.
This is why I love to read personal development books. They inspired me.
People often say that motivation doesn't last. Well, neither does bathing – that's why we recommend it daily.

Zig Ziglar
Of course, it depends on what kind of books you're reading. If you read horror storybooks, of course, you won't feel driven or motivated to achieve your goals.
You need to read the right material to get the right result.
Whenever you are facing difficulties or are in a tough time, you choose to read inspirational books.
So, you want to be inspired and stay motivated every day? Make reading your habit.
What Great Books Should You Read?
Well, what kind of books should you read?
In my opinion, this is a very subjective question. Some people may find a book interesting and life-changing, while to others, it can just be a normal and boring book.
Why is this so? I believe that the book you read must be able to relate to your current life.
If you are running a business and face a difficult time right now, books that talk about a similar situation will relate best to you and have the greatest impact.
So, choose a book that you can relate to. When what you read is closely related to what you do, you can connect better and you understand what the book is trying to say. And it inspired you the most.
Want to know what are my favorite books? Check out my list of top 10 success books here.
Conclusion
As I mentioned at the beginning of this article, there are plenty of benefits of reading, and reading can be life-changing too. However, please understand that reading is only powerful when you apply what you have learned.
Reading gives you hope. It inspires you and show you what you're capable of achieving. But do understand that unless you execute on the ideas you have acquired, nothing will change.
Reading is a form of potential power. And when you put what you learned into work, you become unstoppable. Success will yours.
Now you know why reading is important, what book will you pick up and start reading?
This article may contain affiliate links. Meaning, at no additional cost to you, I will earn a commission if you click through and make a purchase. As always, I only recommend products and services I trust.